Get Involved with Guestbook
From making a donation to participating in our digital storytelling initiatives, there are many ways to get involved.
How to Participate in
Exchanging Stories — Changing History
Exchanging Stories-Changing History is an ongoing Guestbook Project that invites youths from divided communities to meet, to exchange their stories of conflict, to digitally record the experience and to engage in a new, shared creative project. This initiative creates opportunities for young people from communities that have been polarized by boundaries and borders, by religious and cultural beliefs, war, acute poverty or injustice, to use digital filmmaking to record their stories and to imagine a different future.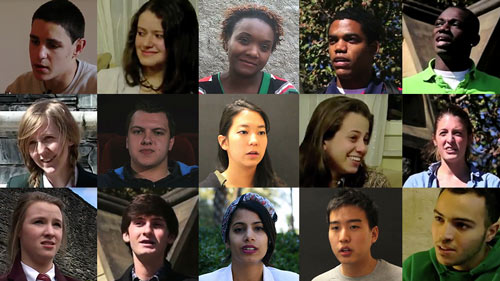 For Individuals
Are you from a divided community and would like to participate in Exchanging Stories – Changing History project? Guestbook Project is looking for stories by and about young people who are willing to take a step towards peace or reconciliation by exchanging stories across a divide.
For Organizations
Do you represent an organization that would like to participate in Guestbook's Exchanging Stories – Changing History initiative? These videos will contribute to an online collection of international voices which will serve as models of creative peacebuilding for youths in divided communities all over the world.
How to Participate in Storybites
Storybites are moments of radical transformation. What is the difference between needing to be understood and actively trying to understand someone else? Storybites is a new Guestbook initiative that creates a participatory space for people who want to share stories that highlight a radical or surprising shift in their perspective. The Guestbook Project operates on the maxim, 'if someone asks you who you are, you tell your story'. Overcoming violence and facilitating conflict resolution involve precisely this: expressing your own story and listening to the story of the other.
How to Participate in Storybites
Take a minute to think about your transformative moment and the story(bite) you want to share.

Take out your phone and record (or ask a friend to record) your storybite. Your video should be between 1 and 2 minutes.

Send your video to the Guestbook Project.

We will share it with the world!
Become a Partner of Guestbook Project
Do you work with communities in conflict? Do you work with people interested in creating media about peacebuilding and conflict resolution? Would you like to set up a screening, talk, or other event? Guestbook Project has partnered with organizations from around the world to empower and inspire a new generation of creative peacebuilders to transform conflict through empathic imagination and the use of digital media.